MAISON
The letter of Hubert de Givenchy
In a letter written shortly before his death, Hubert de Givenchy recalls the milestones in his life as a couturier: the houses that first believed in him, the move to open an atelier in his own name, and his encounters with Audrey Hepburn and Jackie Kennedy, both true muses for him. He evokes the birth of a style, the modernity of the "separates" concept and the origin of Parfums Givenchy. And he pays homage to those who accompanied him at Givenchy over the years.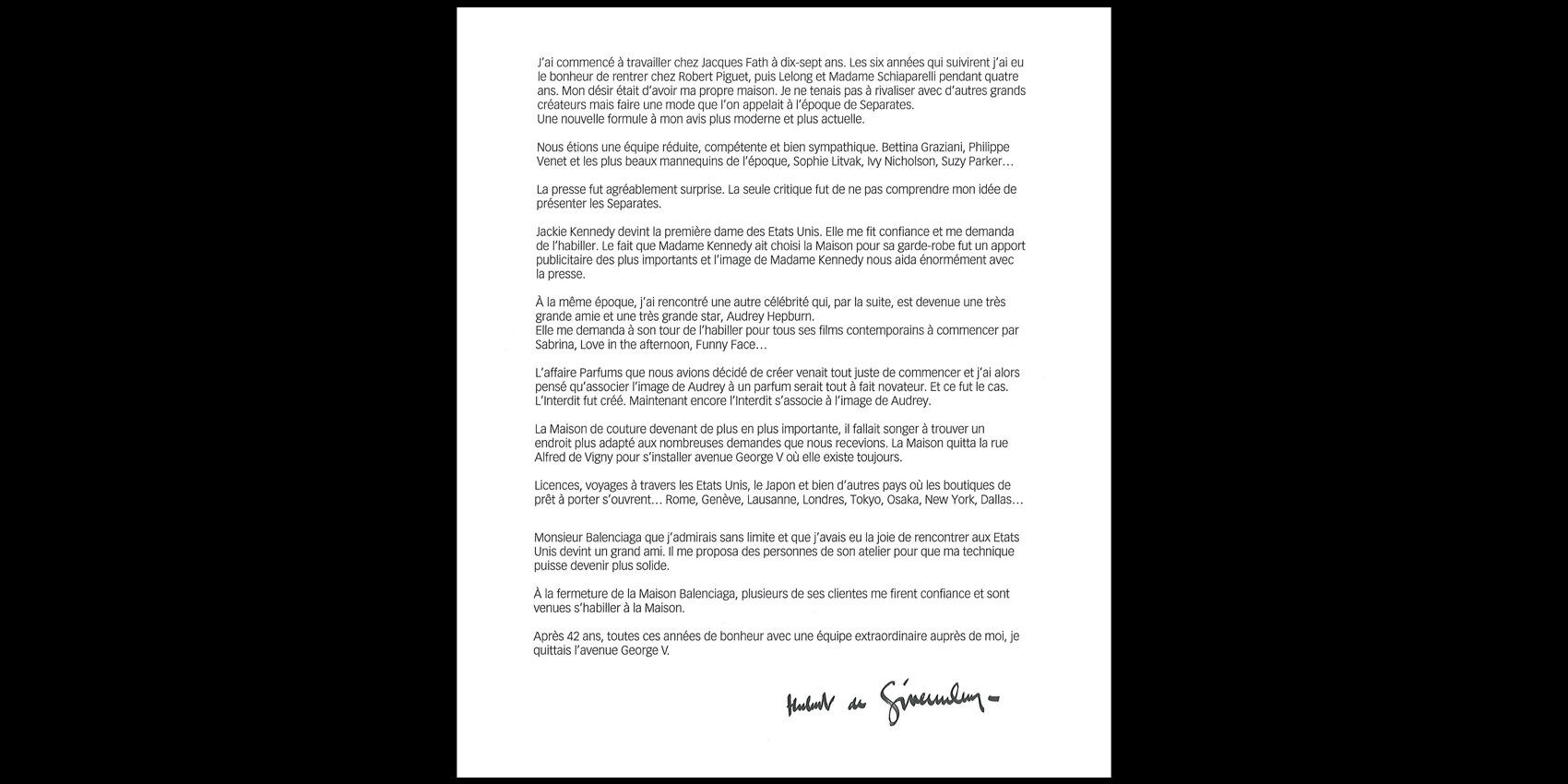 Maison_History_LetterHDG_FullsizeImage
HUBERT DE GIVENCHY
"I began working at Jacques Fath at the age of seventeen. During the six years that followed, I had the pleasure of working with Robert Piguet, and then with Lelong and Madame Schiaparelli for four years. My wish, however, was to have my own brand. I wasn't attempting to compete with other major creators, but to fashion a style that we called at the time "Separates,"a new concept that was more modern and current in my opinion.
We were a small team, competent and friendly. Bettina Graziani, Philippe Venet and the most beautiful models of the era, Sophie Litvak, lvy Nicholson, Suzy Parker...
The press was pleasantly surprised. The only critique was a misunderstanding of my idea of "Separates."
Jackie Kennedy became the first lady of the United States. She trusted me and asked me to dress her. The fact that Mrs. Kennedy chose the brand for her wardrobe garnered much media attention and Mrs. Kennedy's image helped us tremendously with the press.
At around the same time, I met another celebrity who would become a very close friend and a major star: Audrey Hepburn. She too asked me to dress her for her films, starting with Sabrina, Love in the Afternoon, Funny Face...
The Fragrance business we decided to create had just started and I thought that associating Audrey's image with a perfume would be very innovative. That was indeed the case. L'interdit was thus created. L'interdit is still associated with Audrey's image today.
The couture maison, which was becoming more and more prominent, needed to find a location capable of accommodating the numerous orders we were receiving. The Maison left rue Alfred de Vigny and moved to avenue George V where it is still located to this day.
Licensing agreements were signed across the United States, Japan and a number of other countries, opening many ready-to-wear stores. Rome, Geneva, Lausanne, London, Tokyo, Osaka, New York, Dallas...
Mr. Balenciaga, who I endlessly admired and had the pleasure of meeting in the United States, became a very close friend. He referred some of the staff of his atelier to me to help strengthen our Maison's technique.
When the Maison Balenciaga closed its doors, many of its clients lent me their trust and came to be dressed by the Maison.
After 42 years, all of these wonderful years with an extraordinary team surrounding me, I left avenue George V. "