Givenchy
Medium Antigona Soft bag in smooth leather
https://www.givenchy.com/us/en-US/medium-antigona-soft-bag-in-smooth-leather/3665963435091.html
Medium Antigona Soft bag in soft eggplant leather, with triangular GIVENCHY patch, dark silver-finish metal details and leather side bands with a twist clasp. Removable shoulder strap. One main compartment, one flat pocket, and one pocket for business cards on the inside.
Composition: 100% calfskin leather. Lining: 51% polyurethane, 49% cotton.
Country of origin: Italy.
Product code:

BB50F2B0WD-542
Dimensions: 17.7 x 3.6 x 13.8 in.
DELIVERY & RETURNS OFFERED
Ground day Delivery within 4-6 business days - Free
Express Delivery within 2 business days. Delivery cost is 15 USD
Next day Air Delivery within 1-2 business days. Delivery cost is 20 USD
Saturday Delivery for the orders placed on Friday before 2:00 pm ET. (subject to postal code eligibity for this service). Delivery cost is 20 USD
Premium Delivery Service, messenger service between 11.00 am and 6.00 pm, Monday through Saturday, only in NYC. Delivery cost is 25 USD.
Online or in-store returns
More colours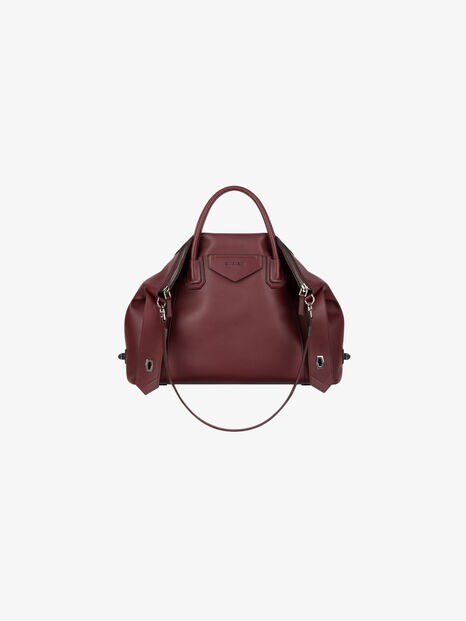 AUBERGINE
Currently Viewing